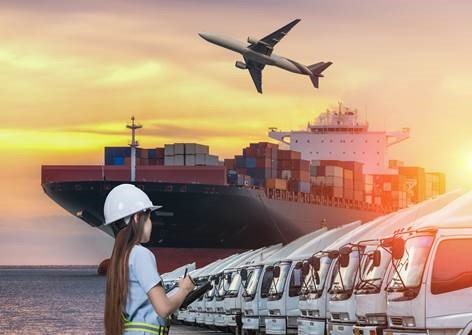 Regarding logistics and shipping services in Dubai, one name stands out Chevron Sea Shipping Co. L.L.C. With a reputation built on excellence, reliability, and dedication, Chevron Sea Shipping has established itself as a leading Logistics Company in Dubai. In this blog post, we'll explore the critical aspects of Chevron Sea Shipping Co. L.L.C., highlighting their services, expertise, and why they are the preferred choice for companies needing shipping and logistics solutions.
Our Comprehensive Logistics Services:
Freight Forwarding: Chevron Sea Shipping Co. L.L.C specializes in seamless freight forwarding services, ensuring that your cargo reaches its destination efficiently and cost-effectively. Whether you are shipping goods locally or internationally, our team has the expertise and resources to handle it with precision.
Warehousing and Distribution: Our state-of-the-art warehouses are strategically located in Dubai, offering secure storage and efficient distribution solutions. With our extensive network, we can streamline your supply chain and reduce transit times.
Project Cargo Handling: Chevron Sea Shipping is well-equipped to handle oversized and heavy project cargo. We have the experience and equipment to manage the most challenging shipments, ensuring they reach their destination safely and on time.
Shipping Services in Dubai:
Vessel Chartering: As a prominent Shipping Company in Dubai, Chevron Sea Shipping Co. L.L.C provides vessel chartering services tailored to your specific requirements. Whether you need a small vessel for a short trip or a larger one for a long-term project, we have you covered.
Container Shipping: We offer reliable container shipping services, connecting Dubai to global trade routes. Our container fleet is well-maintained, and our team ensures that your cargo is handled carefully throughout the journey.
Ship Management: Chevron Sea Shipping Co. L.L.C also offers ship management services for vessel owners. We take care of crew management, technical maintenance, and operational efficiency, allowing you to focus on your core business.
Why Choose Chevron Sea Shipping Co. L.L.C?
Experience: With years of experience in the industry, Chevron Sea Shipping has the knowledge and expertise to handle various logistics and shipping challenges.
Global Network: We have established a vast global network of partners and agents, ensuring that your cargo can easily reach any destination.
Commitment to Quality: Our commitment to quality and customer satisfaction is unwavering. We prioritize the safety of your cargo and the success of your projects.
Cutting-Edge Technology: Chevron Sea Shipping Co. L.L.C. embraces the latest technology and industry best practices to optimize our services and provide real-time tracking and reporting for your shipments.
Regarding logistics and shipping solutions in Dubai, Chevron Sea Shipping Co. L.L.C is the name you can trust. With a wide range of services, a global network, and a commitment to excellence, we are the preferred choice for businesses looking to streamline their supply chain and shipping operations.
Visit our website to learn more about how Chevron Sea Shipping Co. L.L.C can meet your logistics and shipping needs in Dubai and beyond. Contact us today to discover how we can help you navigate the seas of success.